House vs Flat, What's Your Choice!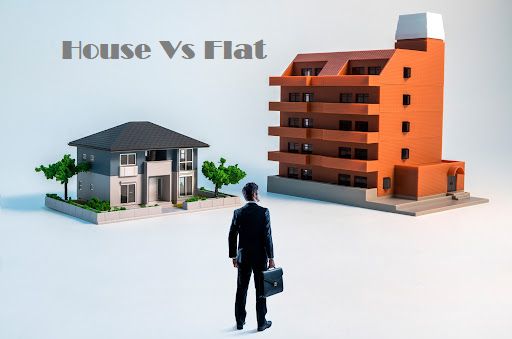 The population and economic conditions have drastically changed the thought process of people and their preferences. The combat between flat and house has started when the flats become a prominent option in real estate. The flat history starts back in the 1960s in Pakistan. Modernization really promotes the flat concept but the need for a house could never be stay behind.
Economic View:
Houses own the land, and there is freedom of changing and constructing the house of one's will. Houses are normally owed double or triple storey in Pakistan. They could have the parking of one or more cars too. The rooftop is also owned by the owner. With all these features the economic value of houses become more than flats.
Flats are fixed and the owner normally cannot change too many things, and before doing that he has to seek permission from the community supervisor. There is the restriction of floors too if the flat if double deluxe then can have the double-storey feature otherwise multiple storey charm lies within houses. Most importantly it doesn't have land ownership. For all these reasons flats become cheaper than houses.
Security:
In Pakistan, street crimes, and law and order situations are normally shaky. To feel safe buyers prefer flats. Houses could also be safe, but it will require some extra effort. The houses that lie within the gated communities are more secure than any other open area house. Here is one more issue lies, the flat system in densely populated cities and with less budget do not pay attention to maintenance and security, then with these features, the flat attraction only stay a few hours then it diminishes as the maintenance, cleanliness and security are compromised. It may reduce the value of flat too. 
Privacy:
Privacy is always much better in separate houses than in apartments. In apartments, people have to use the same staircase and elevator. Some luxury apartments offer complete privacy but it costs arms and legs to the buyer. So for general consideration, it is easy for houses to maintain privacy.
Covid-19:
Pandemic has brought an all-new way of living and preferences. Those who used to think about life in apartments are better are now influenced by the houses because they offer less contact to other people so less danger to catching any sort of contagious disease. Flats are at high risk due to unavoidable social contact. A city like New York that is extremely populated and based on mostly apartments, faced extreme conditions of pandemic and death rate. It is far difficult to be in quarantine in flats than in houses. 
Location:
Houses are difficult to buy in your desired location. Owners have to accommodate with many aspects while buying the houses whether it's about compromising over the market or public transport, whereas the flats are normally constructed on ore reachable places where people can easily access many necessities for living.
Renting and selling:
Renting and selling the flats are always easy due to less price and better location and amenities. People get all things together in a small amount of money. So if we talk about houses it's difficult to liquidate the houses due to the high demands of owner and price hack, although the location could be compromised still it cost more than any similar one storey area apartment.
Summary:
The houses and apartments are two different options for living people select out of these two while keeping in mind their priorities.