Top 5 Societies in Islamabad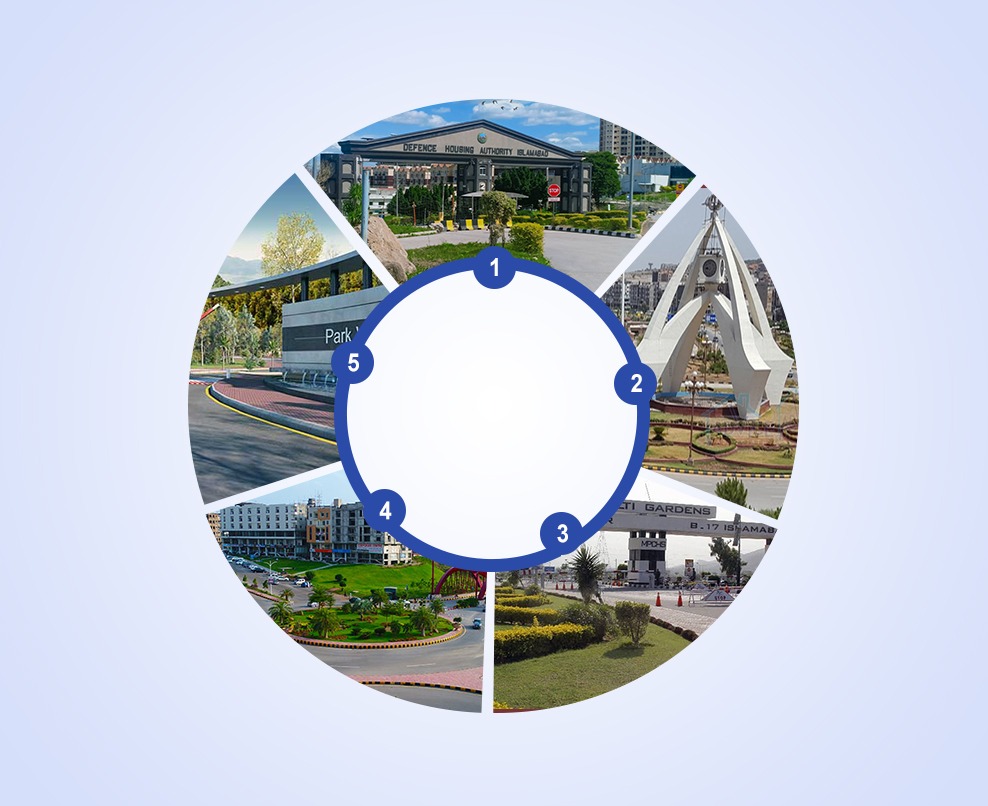 Islamabad, being the capital of Pakistan is considered to be the most valued city. Its location, weather, planning, and maintenance adds to its worth. Islamabad was initially segregated in different sectors from D to I but as the population and demands are getting increased, Islamabad's out boundaries are also stretching. With this advent, different societies tried to compensate for the demands.
Today we would discuss the top 5 societies of Islamabad which are, according to me, worthy enough to get investments. This rating is first dependent upon the research we did to know the maximum features of these societies, secondly, the discussions with the top realtors of Islamabad and Rawalpindi. These reviews are quite personal people can agree and disagree with these ratings. Before going into further details of societies, let me discuss the features for which we have chosen them to be different rankings.
1.
First of all, before heading towards any investment and decision, the credibility check is most important. We have taken the top 5 societies whose credibility is at least not questioned if the property is purchased through a reliable property dealer.
2.
The speed of construction and development is also considered while ranking the societies that how early you can construct the house in that society. Is it about a few months or could stretch to years?
3.
Then we have considered the developer or builder of that society, we can judge any developer by looking into the past projects.
4.
Then we have taken into account how much a society is developed, which means to what extent the roads, markets, houses, and primary necessities are developed there.
5.
Then another factor is accessibility, how far is the society from the main city and major offices, and important destinations. Over time as the city stretches the accessibility issues get reduced. We can assume about any location that is too far from the tentative expansion of the city or could be reachable soon.
6.
Then we have rated the societies according to their resale values. In the past passage of time, what is the graph of plot value whether it is appreciating or depreciating its value? This factor is difficult to be judged because it depends upon natural phenomena or any further attractions.
7.
Last but not least, safety and security.
Let us start discussing each one of them from number 5 to number 1 housing societies.
# 5 Park View Society:
This society has a scenic location with tremendous views. It is surrounded by lush mountains, fresh air, and a natural environment with trees and greenery. This society is approved by CDA. They have a complete set of NOCs. Then it is important to pay self-visit before taking any final decision. The road is constructing and development is seen. The location is not too near to the main hub of the city, this is considered to be a comparatively far off society, but it could be manageable with time because as the population stretch they bring far off society near to the city.
# 4 Gulberg Greens:
The most attractive feature of this society is, it has a vast location and too many blocks are there to segregate different types of plots. The quality development work is quite well maintained, the roads, civil works, groceries are well managed here, but along with that, the pace of work and development is comparatively slow. One more attractive feature is seen here when for the past few years when the recession was seen in the real estate business even then the investments and business did not get slow here. One more plus point is, the construction of houses has already started even the possession has given to many investors. Intelligence Bureau owns this project, which is one of the strongest points of this society.
# 3 B-17:
B-17 is too speedy in development work. Almost all blocks are ready. Possession is given, the population is settled and routine life has started there. B-17 accessibility towards the west is considered to be good which includes the shorter ways to the airport, motorway, and Peshawar. The rates of the plots are not too high here. The developers are PECHS who have already delivered a project in E-11. The management body is active here and they are experienced and maintaining the place very well.
# 2 Bahria Town:
It is one of the most famous societies in Pakistan. Bahria town has extremely fast construction speed. They are well managed and the constructor has put flesh and blood to develop this society. There is only one drawback to it, and that is, it is a one-man show. Malik Riaz is an owner of the society who runs all functions of society. If he gets to hide from the screen, we never know what will happen to this society.
# 1 DHA:
DHA is the most sound and safe society which is a high-speed society where construction has almost been finished. The prices are not for middle-class people. The luxurious feel is there and the Army is involved in its security and safety.
All Phases are well managed and well planned and they take accountability to provide better services to the fullest.