The key factors to keep in mind while buying a new house.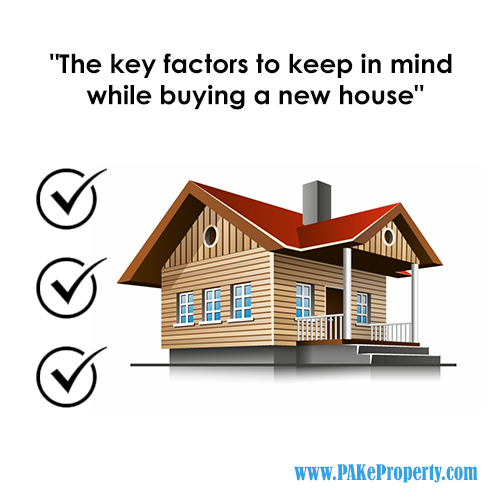 Dream house is something everyone starves to own, whether it's a big bungalow or a beautiful studio apartment, buying a house would always be a challenge for most of the people. Those who want to buy a house at a reasonable price and need an outstanding house too can keep a few things in their mind while buying any house from their life long savings. In Pakistan, there are hundreds of societies that are developing and other options are also available throughout the country.
Before start searching for a house there must be a rubric that needs to be set. The list of requirements that are a compulsion for your house should be kept in mind and these requirements could be unavoidable without which you are least interested in any of the houses. First of all, you need to research the prices and locations. The requirement of the rooms is one of the prior things that could be under consideration. While selecting any house you should think about your past experiences and what are those things you need most while living in a house and what are those things that should never be there in your house. Every individual has multiple dimensions and several different choices to choose from.
Make a list of choices and every choice should further segregate in the pros and cons section where you should write about every home you searched for, its positive and negative points then select which has more positive points in your chart.
The pros and cons chart would contain only those options that are pocket-friendly and you can somehow manage that amount for your property.
The points that could be added to your chart could be;
Location, water electricity and gas availability, nearby market, nearby masjid, school, hospital, public transport, east/west/north/south facing, status of the society, security, property's condition, value of money, fulfilment of your requirements, number of storeys, the age and size of the property, view from the house, sanitation, storage space, party place, notorious/famous, the need of customization in the house.
These are some key features that must be considered and checked while buying your dream house. You can carry an MS Excel sheet to check the specification while searching for any house. Note down the address and location of your researched house it's better to pin that location in Gmap for future references. Then count or check the attributes it has and does not have. You can have a column for comments where you can note down any attractive feature about that property. Try to take pictures of the house that is on your list. It is always better to take bits of advice from multiple people and brokers about that property for better assessment of rate and value for your money. Double-check the documentation and papers whether they are real.
Neighbours are also a good source of getting an authentic update about the house whether the availability of gas, electricity and water is unobstructed. The reputation of that property is also a vital feature that should be focused while considering any house. Every city has its important features that are given importance, i.e. in Islamabad people prefer to live on the ground floor or first-floor apartments due to weather severity and less windy atmosphere. Whereas, in Karachi, the preferred floor to live is top floor due to less severe atmosphere, plenty of wind through the day and for security reasons. In every city, it is better to take help from a broker to get maximum knowledge about the area and its pocket areas. The broker should be the local person who should know the complete knowledge about that particular area. In the end, I would like to suggest that never buy any house in hassle, try to search and inspect the house from every aspect beforehand and then proceed to buy the house.
PAKeProperty as a best reliable property consultant can provide you with many options that can fall in your budget and would fulfil your requirements too with all pros and cons charts filled for you. Our vision is to facilitate you till the end.