DHA vs Bahria Town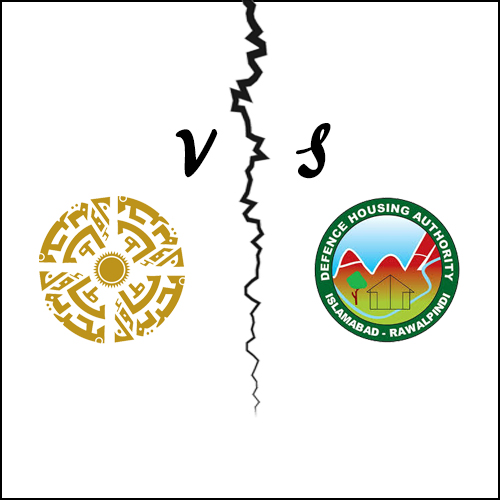 DHA Vs Bahria Town
DHA and Bahria town are the top most prestigious societies in Pakistan nowadays. People are mostly interested to invest and possess the land and house in these societies. These societies gained people's trust in no time due to very reliable and consistent working on both the projects.
Apart from these features, people are confused about these choices whether to choose which one. The exact answer could be got by everyone's resources and preferences. One could make any choice by looking deep into his resources and think about the requirement he has. Apart from personal preferences, there are some facts and figures that may influence somebody towards one option or another.
DHA stands for Defense Housing Authority that is backed by the army. The project was initiated back in 1950. They have manifested this project initially for army personnel than later on it was stretched for the civilians too. There is a whole company that supports and caters to the constructions and dealings related to DHA. DHA Lahore and Karachi are much older than DHA Islamabad so its value and location are supreme in Karachi and Lahore. Islamabad DHA was formed much later and the location allocated for it is a bit far from the main densities of Islamabad.
Bahria Town is also a big giant and its popularity doubles during the day, quadruples during the night. It was originated in 1997 by Malik Riaz, a founder of this company. Many people confused its name with navy supported societies but actually, it is run by a private company that is in the supervision of a family. Bahria town has shown the fastest pace of development and its architecture and prices have grabbed the people's attention. Bahria town is considered to be a one-man show.
DHA is slow pace developmental societies where each land cutting is not less than 10 Marla. The prices are escalating due to the most reliable factor lies here. From an investment point of view, people prefer this place but low income and middle-class people cannot even think of buying a house or plot here. DHA is a luxury where they maintain all code of conduct from the cleanliness, security, and maintenance. The markets and schools are also quite expensive for the layman so they DHA carries the decorum of luxury.
Bahria town is also considered to be luxury but it has a place for mediocre too, due to availability of 5 Marla and 7 Marla plots. The construction pace is quiet high and possession is given in a few years. They also allow payments in installments. Their popularity become shaky when in 2016 the stay order was imposed on the construction due to illegal land possession by Bahria town later the issue was resolved and again it maintained its pace of development. Bahria town was initiated with 15000 Rs file and later on the same file was sold for 2 lac Rs. There are a lot of attractions created for people who are investing in Bahria Town. The largest Masjid in town, the schools, College, Hospital, and even amusement park has dragged people towards this project.
In my opinion, the reliability factor is more for DHA but Bharia town is also just behind it. People who can afford both normally prefer DHA due to Army support. But DHA does not allow installments so it segregates the elite and mediocre. Where Bahria towns give shades to everyone.